A service to suit you
If you need help to cook wholesome tasty food, our service is for you. Whether you need help every day or on a particular day in the week; in the long term or just for a short period of time while you adjust to an illness or a bereavement.
Order your meal when you need it – every day, or once a week. Our delivery is free of charge and a contract is not required. Your order can be changed or cancelled with just one call or email before 10am.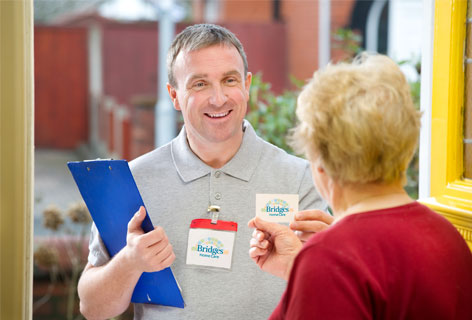 This could be just the boost needed to maintain independence and quality of life...
We deliver meals 365 days a year, 7 days a week. Choose from our new menu, expanded as you requested.
Bridges Meal Delivery Service is part of Bridges Home Care – a tried and trusted home care service. All meal deliveries are managed by our experienced call centre. Your meal will be delivered individually, by a colleague trained in health and nutrition, wearing our Bridges uniform and carrying identification.
We take a real pride in the overall quality of our freshly prepared meal delivery and provide:
a wide range of daily prepared two course meals
hot meals, fresh market salads or soups
National Association of Care Catering approval
ingredients with full traceability
fully approved kitchens
daily micro-biological testing ensuring food safety
nationally accredited production system
free delivery* by a caring, fully trained professional
personal welfare a priority.
* Call us on 01491 578 758 to discover whether we deliver to your area.